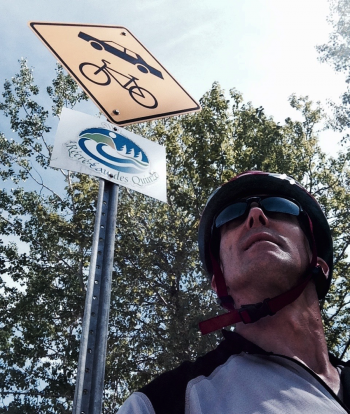 Cycling Gem: Récré-eau des Quinze
(Ce blogue a été écrit en anglais) Think of a world class cycling destination. Think of smooth pavement and a quiet road winding through spectacular scenery. I'll bet you're not thinking of the Temiskaming area. That's okay; not many people know about this cycling gem: Récré-eau des Quinze. Truth be told, I actually discovered this place by accident.
A Real Cycling Gem: Récré-eau des Quinze
Until recently, I had been of the mindset that our area is unsuitable for road cycling. The STATO trail is not long enough for serious riders, and the alternatives can be hazardous… loose gravel, broken pavement and heavy traffic take the fun out of cycling.
Having heard about paved shoulders on the Québec side of the border, I went to explore new possibilities. I would not be disappointed. Riding north of Notre-Dame-du-Nord, I pulled off the main highway to answer nature's call. As fate would have it, I found myself reading a road sign, bienvenue aux cyclistes. I accepted the invitation and enjoyed one of the best rides ever.
Apart from a few Hydro-Québec vehicles, the road was mine alone. I would later learn that my cycling experience was made possible by way of an innovative partnership involving Hydro-Québec and numerous community volunteers.
Récré-eau des Quinze is a non-profit organization that is dedicated to developing and maintaining hiking and cycling trails near Notre-Dame-du-Nord. This wilderness area is located in the Abitibi-Temiscamingue region of Quebec. It is a 30 minute drive from Temiskaming Shores, Ontario.
The scenery is fantastic and offers numerous views of the majestic Ottawa River. And yet, the best feature of this cycling destination is the road itself. The cycling gem: Récré-eau des Quinze route is a great road, with 27 kilometers of smooth pavement and virtually no vehicle traffic. The road is as diverse as the surrounding countryside: straight on the plains, winding on the rolling hills, and exhilarating on the steep sections.
For a hidden gem, this place is easy to find. Take route 101 just 3 km north of Notre-Dame-du-Nord, and turn onto chemin Hydro-Québec.
For more information visit their web site.
Enjoy the ride!
_________________________________
This nature & outdoors blog post has been written in June 2016 by Dave Walsh, a volunteer collaborator to the destination Temiskaming blog.  He hopes to be able to share his love of the great outdoors and our beautiful Temiskaming region.  To learn more about Dave.