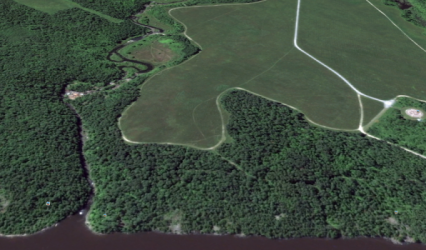 Mill Creek, I Didn't Know
(Ce blogue a été écrit en anglais et n'est pas encore traduit) I was always interested in finding out why a small creek just south of Haileybury, across from Farr Island, was named Mill Creek. So I decided to write a blog post on the creek based on whatever information I could find on the web (also thanks to the Haileybury Heritage Museum and Chris Oslund) . And my search was well worth it! Here are a few interesting facts about what turned out to be a very important body of water in our region's history. This is why I entitled this blog post: Mill Creek, I Didn't Know!
Please note that I am in no way a historian; the facts discovered have not been verified and may not be exact.
Mill Creek, I Didn't Know
Here is a google map for the locations mentioned in this blog.
Mill Creek, I Knew it was a Popular Fishing Spot
Mill Creek, located just south of Haileybury, is a popular fishing spot for many locals. In the spring, boats are often seen on Lake Temiskaming close to the creek's mouth, and in the summer, you'll see people fishing at the mouth of the creek.
Mill Creek, I Didn't Know it was an Ancient Native Campsite
The mouth of Mill Creek was an ancient native campsite. One or two thousand years ago, local native populations led semi-nomadic lives and lived in small hunting groups. Groups would assemble to make trips on Lake Temiskaming. The creek was part of the old portage trail from the Montreal River leading to Lake Temiskaming. Sections of the creek were deep enough for them to paddle in. The campsite was a place where people could wait for a few days to a few weeks for the others to arrive. Farr Island, located just across from Mill Creek, was probably also used as a campsite. Artefacts have been found on the site.
Mill Creek, I Didn't Know it had a Gristmill
Around 1875, a gristmill (flour mill) was built by Edouard Piché on Mill Creek. The original vision was probably to supply flour to the Mission Saint-Claude and to surrounding small settlements. It was one of the first industrial mills in Northeastern Ontario. The mill was operated thanks to the natural water current. The grist stones from the mill can be seen today at the Haileybury museum.
Mill Creek, I Didn't Know it had a Sawmill
A decade later, C.C. Farr (the founder of Haileybury) bought the gristmill and converted it to a small sawmill to provide lumber to most of the Haileybury's early buildings. The mill was still using the current from the creek, but the low water flow during the summer was problematic. The sawmill was eventually moved to Haileybury in 1893 where it was converted to a steam-powered operation. The Mill Creek site was abandoned.
Mill Creek, I Didn't Know it was a Commercial Route for the Lumber Industry
White pine logs were cut in the winter and piled on upstream lakes in the Cobalt area. Spring run-off was used as a means of naturally transporting the logs to Lake Temiskaming. The creek was a direct access route between Cross Lake and Lake Temiskaming. Mill Creek was used to transport the logs to Lake Temiskaming, where they were then gathered to be brought to Ottawa by steamboat. In 1893, J.R. Booth (Booth Lumber Company), a lumber baron of the time, built a log sluice at the abandoned mill site. Logs were gathered in a head pond before being sent onto Lake Temiskaming. A 200 ft long chute log bypass was also built at the location of the Mill Creek rapids.
Mill Creek, I Didn't Know it was a Route for the Farming Industry
Before the railroad and before any roadways were built, the creek was the route to Cross Lake from Lake Temiskaming and a means for farmers to bring produce to lumber camps around Cross, Kerr, and Giroux Lakes.
Mill Creek, I Didn't Know it was a Route for the Prospectors
Mill Creek was the first route to the silver at Kerr Lake via Cross Lake and was used until the six-mile rail branch line was built in 1906 (from Cobalt to the Kerr Lake area). A railway flag station was established at the small Mill Creek settlement beside the mill, which was called Port Cobalt at the time (and later Argentite). The prospectors could disembark at the flag station and navigate down to Cross Lake. As the area expanded, people settled down in adjacent North Cobalt, which grew to accommodate the housing needs of the silver rush.
Mill Creek, I Didn't Know it was an Important Drainage Basin
Mill Creek is the final stream from a large drainage basin, which empties into Lake Temiskaming. It carries most of the Cobalt area's drainage from the following lakes: Green, Clear, Sasaginaga, Brief, Short, Cobalt, Peterson, and Crosswise.  These lakes held a large accumulation of refuse from the Cobalt mining days. Most likely, large quantities of polluting substances made their way to Lake Temiskaming over the last century, especially at the beginning, when environmental precautions were not the industry norm.
Mill Creek, I Didn't Know it had a Bridge
There use to be a road from Haileybury heading to Proctor's Road, which led to the old Argyle Mine. A 120ft long (36m) bridge, used until the 1930's, crossed over Mill Creek a few hundred feet from the edge of Lake Temiskaming. A footbridge was also built upstream, before the falls. An old wooden retaining wall can still be seen on the south shore of the creek. Coult it possibly be the remains of the foot bridge?
You Want to Explore the Area?
If you decide you want to find a good fishing spot or simply explore, here is how to get to the mouth of Mill Creek.
Take Cobalt Avenue, which is just off Carter Boulevard in North Cobalt, and follow the main road until you reach the historic Farr Cemetery. You can park there and if you continue your walk 100m towards the lake you will see the Mill Creek trail, which is 600m long.
Please note that as you are driving along, you will have a view of Lake Temiskaming. The breathtaking beauty of this view, in itself, is worth the drive.
If you decide to explore further and walk along the creek, be aware that you will find a lot of poison ivy, so you need to wear long clothing. Also, hiking is not easy, as a clear trail system has not been developed.   When we last walked along the creek, we saw a black bear, so you might want to bring a whistle or a bell along. In sections, you will find old paths, which are easier to follow. Make sure to bring your camera along!
Mill Creek, I didn't know but now I do!
______________________________________________________________
This Special People and Places blog post was written in July 2016 by Jocelyn Blais, a volunteer collaborator to the Destination Temiskaming blog, an engineer, an entrepreneur, and a nature enthusiast. Click here to learn more about Jocelyn.