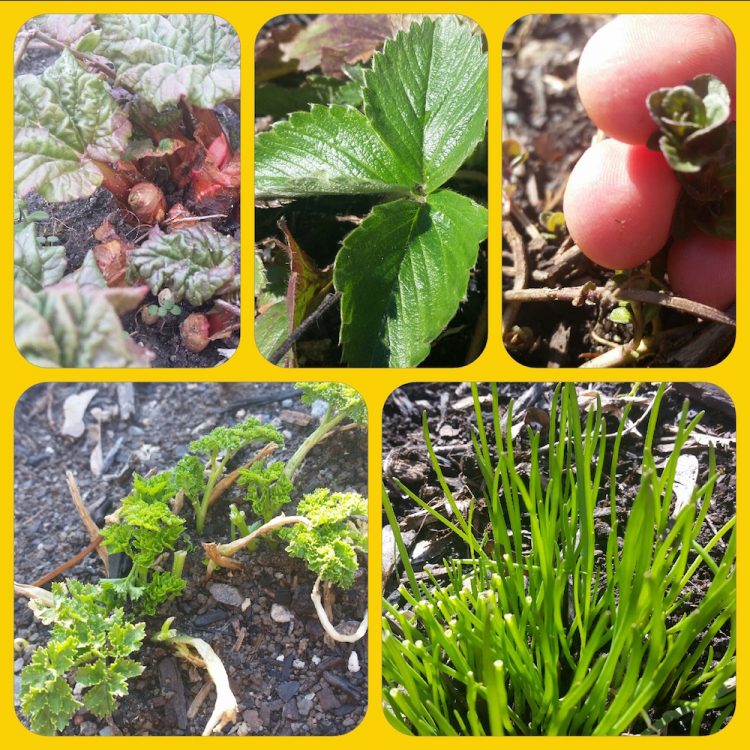 Celebrating Spring and Slow Food
What Is Slow Food?
(Cet article de blogue a été écrit en anglais).   Slow food is simple. Slow food is fun! Slow food is good for us! Slow food is tasty! Slow food happens where what we eat is grown sustainably and as close to home as possible.
For our family, slow food starts in our little Northern Ontario backyard. It begins when the layers and layers of snow melt away to showcase the tiny, burgundy, deep green leaves of sprouting oregano and rhubarb. The first sprigs of chives and curly parsley reveal a monochromic hue of green. If I am lucky I start to see firm fiddle heads poking up out of their dormant ferny homes. The garlic shoots out of earth like a toddler jumping out of bed first thing in the morning.   Spring is here! Spring is here! The early robin bird gets the worm and contributes to the start of a vibrant growing season. Our cozy backyard garden is awake!!!
About the Slow Food Movement
Slow Food is a grassroots organization founded in Italy in 1986 and it has since spread worldwide. Promoted as an alternative to fast food, it strives to preserve traditional and regional cuisine and encourages farming of plants, seeds and local livestock.  Slow Food Canada  Slow Food Abitibi-Témiscamingue
Celebrating Spring
Ahhh springtime! Celebrating the gifts that nature reveals this time of year is exciting!
I enjoy our first spring salads so much. I like to add little snips of chives and oregano to a delicious tahini salad dressing.   Mmmm! Tasting the first food of spring awakens the palate and provides an early hint of slow food seasonal flavours to come!
Tahini Salad dressing (with spring chives, curly parsley and oregano buds)
Serve 2
¼ cup of tahini (raw sesame butter)
1 tbsp. fresh lemon juice
¼ tsp of sea salt
¼ cup combined of chopped chives, parsley and oregano buds
1 garlic clove minced
1 tbsp. of water
* If you prefer a little sweetness, add a tbsp. of honey or maple syrup.
** If you prefer more depth of flavour, add a dash of tamari.
You will want to combine all the ingredients and blend well together. This is delicious bright dressing to add to mixed greens, spinach or zucchini noodles. You will want to massage the dressing into the greens and sprinkle a few chives and parley bits on top.
_____________________________
This wellness and healthy living blog post has been written in May 2016 by Robyn Dewar, a volunteer collaborator to the Destination Temiskaming blog, a raw food and living foodie enthusiast, a Singer/songwriter and an entrepreneur. To learn more about Robyn.