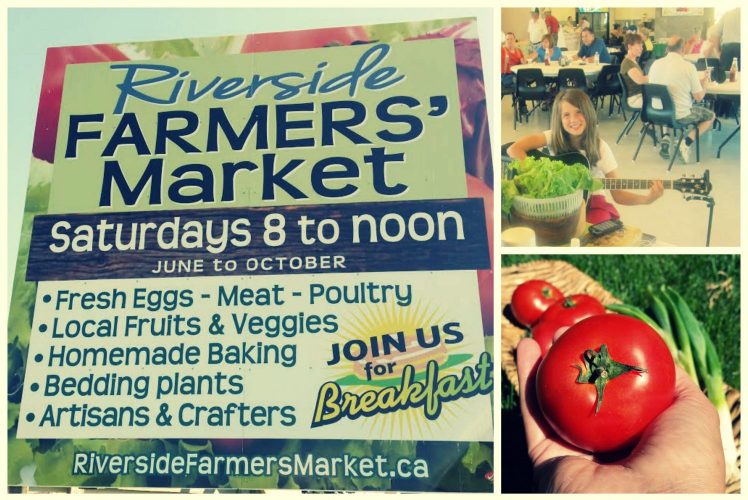 Riverside Farmer's Market : Fresh, Fun, Family Friendly
(Cet article de blogue a été écrit en anglais).  This is one destination you will want to experience while visiting the Temiskaming region! From June to October, our home grown Riverside Farmer's Market in New Liskeard has been the source of a weekly summer time foodie social hub for over 25 years. We are blessed to live in Temiskmaing Shores, a vibrant, culturally wealthy, agriculture hot spot in Northern Ontario.
Riverside Farmer's Market: Fresh, Fun, Family Friendly!
There is something about living in the north and having access to incredible fresh produce that makes my heart sing and taste buds tingle.   Local access to love filled, home grown veggies gets me quite excited! The adventure in selecting produce puts a smile on my face. I love tasting the wisps of leafy greens and then thinking of creating the complimentary salad dressing. My inner child giggles when I go through the motions of snapping open super-sized peas. How my soul celebrates from the fragrant lift of smelling a juicy, red, plump tomato. The joy and delight I feel when I spot the brilliant blue colours of the trendy, tart haskap berries. The vendor asks me if I care to sample … yummm … yes please!!!!
You will find in-season goodies such as carrots, green onions, herbs, cucumbers, tomatoes, potatoes, swiss chard, asparagus, garlic, yams, spinach, apples, beans, beets, berries and so much more! The mouth-watering vegetables and fruit offer a colour palette that mirrors the rainbow and is full of nutritious bounty.
In 2012, I experienced the pleasure of participating as a local vender at our Farmer's Market. I'd create my tiny lilac and rose flower posy arrangements and harvest garden leaf lettuce from our little garden to sell at the market. I'd also play my guitar and share a few tunes for the other venders and market shoppers. I certainly enjoyed my brief time as a vendor. Sharing time with the people was the best part!! Today, I still play my guitar and now the little gardener in me enjoys being a happy, grateful market shopper. I am thankful and I appreciate the love and effort that goes into growing beautiful produce.
If you are looking for farm fresh and local … you will want to set some time aside to visit this special Saturday seasonal morning destination. Bring the family and meet the producers and artisans! They serve up a delicious breakfast too. You can get an affordable breakfast cooked by the Mennonites – good food, good price and good company.
If you have a green thumb or some artisan flair consider participating as a vendor. In the peak period of the year, up to 40 vendors could be present at the market including  Craig Haven Farms, the Orchard, Fresh Start Acres, Sylvia Grantins and several others.
Check our local Riverside Farmer's Market website for updates and a listing of their vendors and also their Facebook page.  Thank you to the many volunteers!
Visit the Market every Saturday morning at the Riverside Place in downtown New Liskeard (across from the Horne Granite Curling Club) from 8:00am to 12:00pm, starting the first Saturday in June to the last of October.
_______________________________
This wellness and healthy living blog post has been written in August 2016 by Robyn Dewar, a volunteer collaborator to the Destination Temiskaming blog, a raw food and living foodie enthusiast, a Singer/songwriter and an entrepreneur. To learn more about Robyn.