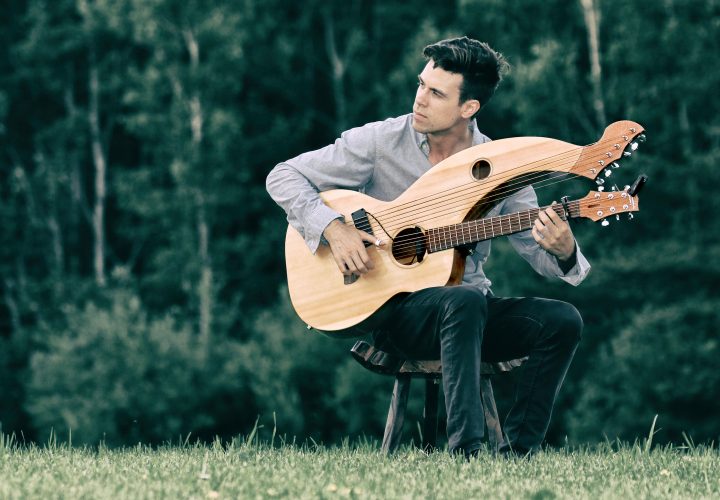 Jamie Dupuis, The Rising North Star
(Ce blogue a été écrit en anglais et n'est pas encore traduit) It's now more than a few decades ago when I discovered the great Michael Hedges at the Montreal International Jazz Festival. It was really the first time I was hearing this type of music – a guitarist with a very unusual style, combining classical, percussions, jazz…. Micheal Hedges passed away in 1997 but was considered one of the greatest acoustic fingerstyle guitarists of all times.  Take a look at this very interesting blog post to learn about fingerstyle guitar playing and the greatest of all times.  When I first saw Jamie Dupuis in the summer of 2015 at one of the Art in the Park events in Haileybury, he immediately reminded me of Michael Hedges and his progression over the last year has been phenomenal.
About Jamie Dupuis
Jamie Dupuis was born in New Liskeard in Northern Ontario's Temiskaming region and he received his first guitar at the age of fourteen. It is at fifteen that he became 'obsessed' with music and he knew that this is what he wanted to do in life. This shy and easygoing teenager started spending hours self-teaching himself and playing in the fields and woods.  Being close to nature has always been important to him and this is where he could be alone and focus on his newly found passion.  At the time rock was what he knew!
Then at sixteen he started studying classical guitar. His perspective on guitar playing changed when he discovered Tommy Emmanuel – he realized that he could become a solo guitarist and not only a guitar player being part of a group. He could become someone different than most of the rock guitarist he has been inspired by so far.  Later he obtained his diploma in Music Performance from Cambrian College and in 2011 after winning 1st place in an international competition he obtained a scholarship at the Musician Institute of Contemporary Music in Hollywood California.
A Canadian Virtuoso Guitarist
Jamie Dupuis is truly a Canadian virtuoso guitarist, composer and occasional singer, best known for his complex fingerstyle technique, energetic performances and the use of percussive effects on the guitar.  He is influenced by such styles as classical, jazz, country and rock. After a few years of playing jazz and covers with a few different bands in events and local Sudbury bars to help pay the rent as he puts it, he is now developing his own style as a solo artist. He also teaches as it is a means to share his love and passion for music and a great way to inspire young upcoming artists.
Jamie's Recorded Albums & Music
He recorded his first studio album 'Inspired by a Dream' in 2011. He then recorded 2012, 'Into the Wilderness'. Take a look at this video with one of his original songs from this album shot in the beautiful natural setting of Temiskaming's Devil's Rock.
His most recent album, 'Elements' was recorded in his own apartment in 2015. He worked with his own mics and mixer and the result is astonishing. I've had the album for a few weeks now and it has been playing in my car ever since, it's just great!  He is working on his next album which should be launched around Christmas time. Jamie's music and albums can be found purchased on Itunes , on Spotify and several places on the web.
He has been playing on Stonebridge Guitars (a Czechoslovakia guitar manufacturer) and is now starting to work with Loucin Guitars out of Oakville.  More recently, his recording on his Tonedevil harp guitar have attracted a lot of attention.   This is helping Jamie Dupuis carve himself a unique style on the world scene of fingerstyle guitar playing.
Podcast and TV Profile
A very interesting podcast was recorded with DHarmic Evolution.  James Kevin O'Coonor interviewed Jamie for almost an hour. I really suggest you click on the link to listen to the podcast to learn about his style, his songwriting process, the equipment he uses and to listen to some of his own recordings. Dharmic Evolution is promoting Indie Music Artists worldwide and their podcasts are presented over 46 countries throughout the world.
Listen to the Podcast With Jamie
A TV profile was also done in 2015 by a French television network TFO.  You can view the profile here –  link  (in French).
The Canadian Guitar Festival
Just a few months ago, Jamie won 1st place at the Canadian Guitar Festival. Last year he had made the honour role with a 5th place. This is a major accomplishment as the festival features performances from many of the most talented acoustic guitarists in the world.  The festival's Fingerstyle Competition has launched the career of many of the world's best fingerstyle players. Back in 2006 the winner was Antoine Dufour and his career has since skyrocketed. Over the years the festival has brought the most talented masters of the fingerstyle guitar in the world, like Don Ross and Preston Reed, to some of the most knowledgeable and appreciative audiences in the world.
His 'Comfortably Numb' Facebook Video Went Viral

Recently, one of his YouTube video, his own version of Comfortably Numb by Pink Floyd played on his harp guitar went viral on Facebook. Imagine, 7.6 million Facebook views, almost 217,000 shares, 14,000 comments and 58,000 likes. This is incredible and has never been seen by a rising Northern Ontario artist!  A few magazines have since covered the topic.
Have things changed for Jamie since this upward spiral on social media? He is now getting a lot more requests and he should! People are asking where his concerts are, they are asking if he is playing in Europe and in the Unites States. It is just a matter of time before this starts happening. This exposure on social media is exciting but he is keeping a cool head. At the time, he is his own agent, he still teaches music to make ends meet, he records his music with his own studio and he does his own marketing. Currently, everything is still a learning process but he can now say that he is living off his music.  He is very thankful to his parents, family and friends for making this journey possible.
The Next Few Years
How will his career develop in the next few years? Of course, he would like an international career someday (and believe me it might not be too far away), maybe a European or a US tour in a few years but what he wants most is to touch people with his music, to show the youth that dreams are possible, to inspire people to be themselves. He would also like to write music for films. He finds that music always brings a lot of emotion in a film and this creation of emotions is important to him. Jamie feels that music leaves more room for interpretation and a musical piece will be absorbed differently for each person.
How Can We All Help Jamie?
What can we all do to help Jamie? We can talk about him, we can follow him, we can share his music on our social media accounts and we can buy his albums.
Here are a few links to follow and reach him:
Jamie's Web Site          Facebook            YouTube         Instagram            I Tunes
To finish off this blog, I would like to share Jamie's own version of Queen's Bohemian Rhapsody on harp guitar.  Just attempting to adapt this great song from Queen on a solo guitar proves that Jamie is ready for great challenges.
_________________________________
In this short video, Jamie wanted to thank you all for following him.
Thank you Jamie Dupuis for sharing your passion,
for being close to nature, for being a rising North star!
_________________________________
This Cultural blog post was written in August 2016 by Jocelyn Blais, a volunteer collaborator to the Destination Temiskaming blog, an engineer, an entrepreneur, and a nature enthusiast.
Click here to learn more about Jocelyn.