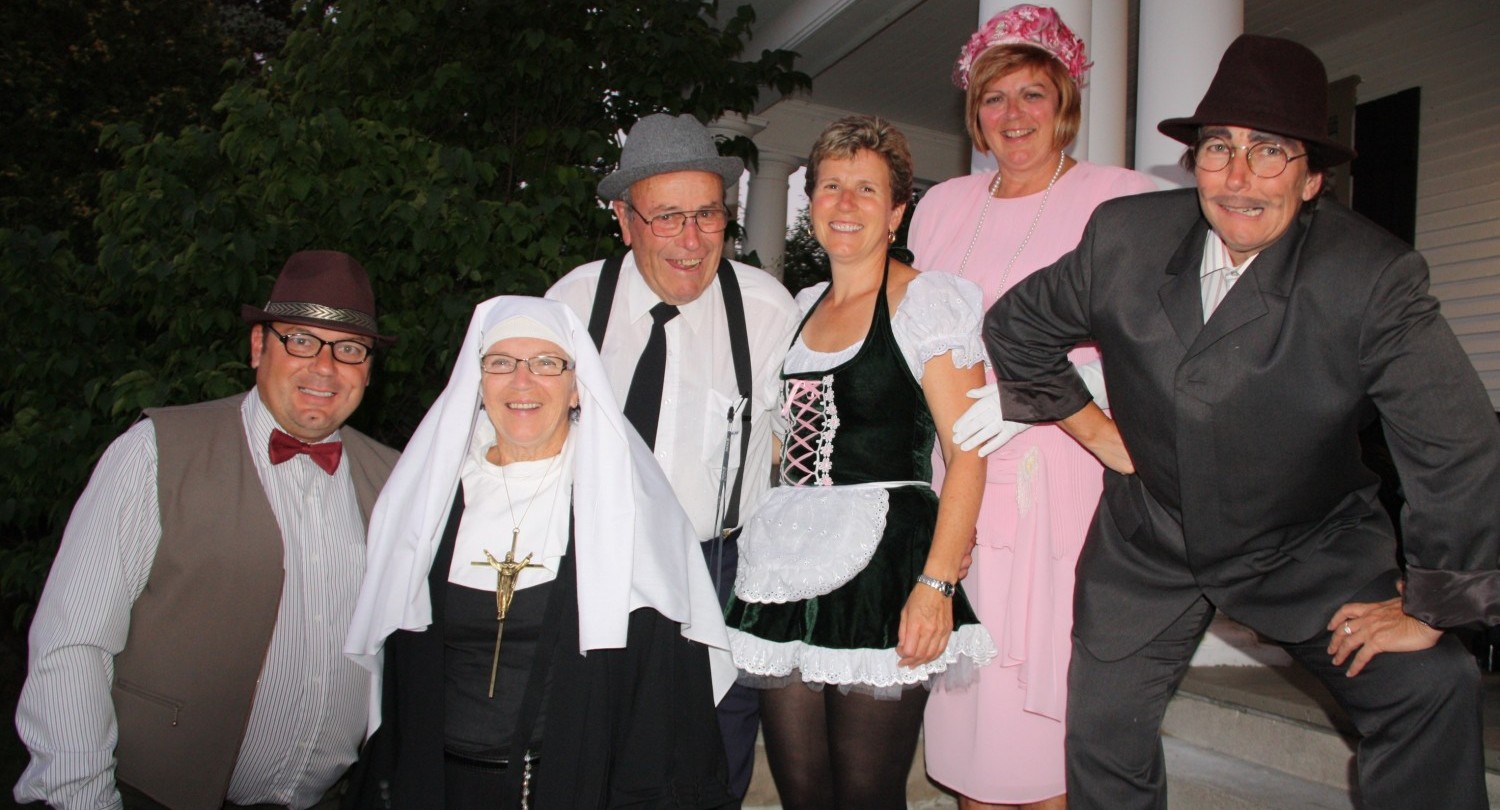 Revivez l'apogée de Haileybury et Cobalt pendant nos soirées historiques, des activités de reconstitution.Imaginez passer une soirée avec les opérateurs de mines, prospecteurs et leaders. Garanti que votre groupe va l'adorer! Nos soirées historiques sont uniques aux Suites des Présidents.
Au sujet des soirées historiques
Nos soirées historiques portent sur le sujet de l'histoire, la culture et des personnages dymamiques. Our historical evening is all about history and culture, and colourful characters. There is simply so much history and culture in our region that you will be amazed by what you will learn. Did you know that at the height of the Cobalt's Silver Boom, we had a railcar system, professional hockey teams, over 100 mines in operation, operas, the first Ontario Provincial Police detachment, the world's largest compressed air plant, a stock exchange and so much more?
During your evening and during your preparation for the activity you will truly enjoy discovering Haileybury and Cobalt. The historical evening will change the way you see this beautiful Temiskaming region.
Most often, the event is combined with a sit-down dinner. The evening starts with a cocktail and then followed with a formal dinner. A few options are available for the dinner and a caterer could be used. A simpler version is to have a cocktail and evening combination.
How Does It Work
A few weeks prior to the historical evening, we will provide each participant with an historical character. We will also provide a one-pager containing a description of the character and his or her role during the evening. The participant is responsible to read the information but it is always better to do a bit of research on the web to further the participant's knowledge about his or her historical character.
The participants can also gather a costume for his or her character. Often the costume can be a simple hat or a scarf. Some people take this a bit more seriously, and arrive with a great costume of the era. For those who have not been able to find a costume, we have a costume room available and within a few minutes, something can be found. The costume really brings the historical character to life. Believe us, people have so much fun dressing up! It is always a bit scary but it changes the evening.
When people arrive at the cocktail or reception, they immediately start playing their role. So, for a few hours, they are permitted to be someone else. It is always interesting to see the development of the evening depending on the discussions. Some characters will simply rise up above others and often they are not the ones we expected. The evening is simply laughter all the way.
A Setting Adapted For Your Group
Every historical evening has a setting adapted for your group in order to motivate the discussions and add a little bit of excitement. Most of the evenings are held between 1912 and 1922 before the Great Fire of Haileybury, at the peak of the Cobalt's silver rush era. The setting can have a few issues to resolve during the evening. For example, an historical evening for a group of golfers might be opening night of the Haileybury golf course, where William Henry Wright invites his friends. A plot is then developed around the friends that will be present. William Henry Wright was one of the Haileybury golf club initial financial donator. He had been a successful prospector who later started the Globe & Mail newspaper.
We organize everything to ensure a memorable and fun activity 
We adapt the setting for your group
We provide historical characters to every participant with the required base information
We provide costumes to each participant requiring a costume
We will assist you in the preparation of the venue and for the planning of the dinner if applicable
We will ensure that the evening kicks off in a great way
We have done historical evenings for groups of 8 to 60 people
What Is the Cost For The Historical Evening
The cost to organized the historical evening is usually a flat fee per person and will vary depending on the size of your group and the complexity of your evening. Your cost could range between $10 to $15/person. This cost covers our time for organizing the historical re-enactment evening  plus the required items like the costumes. Please contact Nicole to have a quote for your group.  Not included in this price is the cost of the meal.
A Few Historical Historical Evening Photos
This is a fun event and it is a great way to spend an evening with your group of family. Believe us, it works every time! We have done it for groups from 8 to 60 people.  The historical evening is an activity available to our Presidents' Suites guests. It is part of having a memorable stay in our beautiful Temiskaming region.